Hail! Exciting journeys and thrilling new experiences on the Planes await the adventurers of Norrath!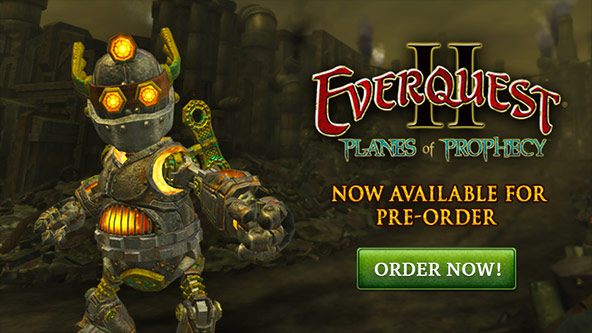 EverQuest II: Planes of Prophecy is scheduled to launch on Tuesday, November 28, 2017, but pre-orders for the game's 14th expansion are available NOW at www.everquest2.com/expansion-content! There are three versions of the expansion for you to choose from:
Standard Edition ($34.99 USD)
Collector's Edition ($89.99 USD)
Premium Edition ($139.99 USD)

If you're an All Access member, you'll get 10% off the cost of the expansion!
All editions include:
Access to ALL previous expansion content
Planes of Prophecy Beta Access
Character Level 100 Boost – Delivered at time of purchase! Boost an existing character to level 100 with a full set of equipment, including class-specific armor appearances.
If you purchase the expansion during the pre-order period, you will also get:
Pre-Order Bonus: Clockwork Calamity Illusion – Delivered at time of purchase! This adorable mechanoid illusion includes buffs for improving experience gain, tithe, potency, ability modifier, experimental success and primary attributes.
Each edition of the expansion also comes a variety of additional special items, which you can view here.
Don't wait to begin preparing for your next great adventure in Norrath! Pre-order EverQuest II: Planes of Prophecy today!